In today's Low Carb Thanksgiving substitute, we'll be making a low carb version of the ever so sweet and popular Sweet Potato Casserole. We'll use a mash up (literally! haha!) of two OTHER low carb vegetables to mimic this orange treat to make a low carb sweet potato casserole.
Here is a post on how to properly murder and break down your pumpkin for recipes such as this one.
I steam my cauliflower first until tender, then puree it in the food processor.
Low Carb Sweet Potato Casserole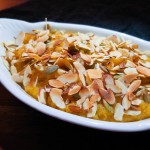 A Low Carb "Sweet Potato Casserole"
3 cups Pureed Pumpkin
2 cups Pureed Cauliflower
3 tablespoons Maple Extract
2 tablespoons Melted Butter
1 teaspoon Salt e (Add More Based On Preference)
6 drops Liquid Stevia
0.5 cups Pumpkin Seeds (Optional)
0.75 cups Sliced Almonds (Optional)
Mix your pumpkin and cauliflower puree together
Mix in butter, maple extract, salt and stevia
Taste – do you want it saltier/sweeter/maple-y-er? Add more of the salt/stevia/extract
Once you reach your desired taste level, transfer mash into a baking dish and sprinkle the pumpkin seeds and almonds over evenly
Bake for 10 minutes
Transfer to broiler up to four more minutes to brown the almonds (keep a close eye to prevent burning – depends on your broiler!)
9 net carbs per portion – if you remove the nuts and seeds, it lowers the final carb count
Served here with lamb and chard!