Need some ideas for the low carb chef in your life? Here is my list of low carb cooking Christmas gifts, based on my favorite items that I use and love all year long.
Also, not too late if you have Amazon Prime to order for Hannukah! Happy Hannukah, by the way 🙂
KITCHEN TOOLS
Ve
ggie Noodle Maker You have probably seen this device EVERYWHERE. Get this exact one – not the small, handheld ones. The small handheld ones SUCK and are only good for carrots and small zucchini. This guy can turn other items, such as turnips and rutabagas, into noodles. Check out all my recipes here and a video of it in use.
A serious food
process. No joke. I use mine almost every other time I cook. Cauliflower rice. Cole slaw. Broccoli mash. This thing is indispensable. It has these awesome extra devices that let you slice and dice, not just mulch.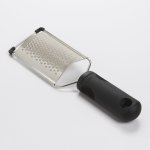 Cheese grater – I don't mean that big, clunky thing. I mean a small, nimble hand held item that lets you grate cheese easily into your cauliflower mash or your Sunday morning omelet. I can't believe how often I use this thing.
Hot Water Kettle
– Screw microwaving/kettling/boiling in a pan. I use this stupid thing at least once every day (coffee). I have also been using it at night, since I've become completely addicted to Celestial Seasonings Sugar Cookie tea. Good lord, this stuff seriously tastes LIKE A COOKIE.
Low Carb Reading
The Art and Science of Low Carbohydrate Living – This book clearly explains the science of how your body works when eating a low carb diet. Before you even start cooking, understand the basic science behind this way of eating. It's easy to read, incredibly educational and has really interesting stories. I read it every few months!
Wheat Belly – written by William Davis is a very easy to read and extremely informative book about the history of wheat, modern wheat and how it affects our bodies (and brains!). There is also a Wheat Belly 30 Minutes or Less Cookbook if you are looking for more recipe ideas.
THE PEE
Make sure you are in ketosis by peeing on a stick
Ketostix are an easy way to see if your body is producing ketones, which is what your body releases when it breaks down fat for energy (versus hoarding your fat and using carbohydrates for energy).