I can't stand the crowds and fierceness at the malls, so I do all my shopping online. It's safe, easy and when you have Amazon Prime, free shipping! How can you beat that? Just sit back, click around a bit and voila! Done! So here is my list of the ultimate in low carb cooking gifts that are the niftiest/most useful gadgets in the kitchen. Plus some black cat pics to round out a much more enjoyable 'Black Friday'. Black Fridays should always have cute pics of black cats!
I hope everyone had a great Thanksgiving! If you are looking for a good way to re-appropriate some turkey, check out the low carb chicken noodle soup recipe (just add shredded turkey instead).
Here is a list of other cool kitchen tools that make great gifts (link opens another window).
So as mentioned, here are my favorite kitchen appliances that would make awesome low carb cooking gifts: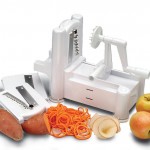 Paderno Spiral Vegetable Slicer – I've posted many times with lots of recipes about this really cool gadget. I've attacked all major vegetables with it. What I love about this tool is that it can re appropriate vegetables into a fun noodle form and really help with pasta cravings. That and it is really fun to use!
Vitamix – This is the ultimate in luxury gifts for your loved one. I was blessed by my dad who bought me one, and I use it all the time for sauces, soups and mashes. It's a BEAST. Yes, it is pricey. You can get it at Costco for about $50 less than Amazon. But there is a reason it's pricey – this bad boy is as high end as you can go in the blender/mixer world. It's in a class of it's own.
Food processor – I use my food processor as much as, if not more, than the Vitamix. I prefer to rice my cauliflower and make cauliflower mash (plus a bajillion other things) in the food processor. My model is no longer available but this link is to the most recent/closest version. This poor thing has survived at least 6 moves and almost thrice weekly use.
Immersion Hand Blender – This thing is awesome if you have a big pot of stuff and just want to mush it all up in the pot (why dirty another appliance, right?). It is also perfect for making fresh whipped cream. Just dump cream in the cup it comes with, turn on for two minutes, voila – fresh whipped cream for your low carb desserts. It makes it soo easy! It also comes in really cute colors. I have purple. 🙂
Mandoline – Ever since I got one of these, I'll never turn back. Here is my post raving about my mandoline. It quickly turns a mound of vegetables into consistent shapes and sizes for uniform cooking and preparation. Seriously, don't go back to manually chopping a hoarde of veggies – attack them with a mandoline into pleasing shapes.
Cast Iron Grill Pan – One of the newest kitchen tools I got this year was a cast iron grill pan. I don't have a grill, since I live in an apartment. This has helped me sear butternut squash and lots of steaks. I love it and it's just TWENTY BUCKS. It's hefty and awesome. And for that price, how can you go wrong??
Pressure Cooker – I have completely forsworn my slow cooker in lieu of the pressure cooker. The pressure cooker is just so optimal in terms of time and has such amazing results (such as super easy carnitas) that I'm never going back to the slow cooker. I have a lil Presto Pressure Cooker which works fine but honestly do advise that you consider upgrading to a nicer unit than a rattle top. Less noisy!
As promised, here are some black cat pics to round out your black cat Friday!