Tis the season for pumpkin, pumpkin pie and other comforting pumpkin pumpkin pumpkin something something something.
After making a beet custard the other day becoming enlightened on how ridiculously easy it is to make custard, I then glanced around the interweb and modified various recipes into a low carb custard recipe. All these custards and puddings are making me want to go buy cuter ramekins. Why don't they make black cat ramekins?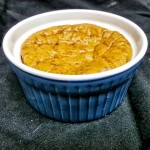 Let cool in fridge for several hours or overnight.
My favorite recipe that this is closest to is from a cool site called SugarFreeMom.com – just want to give kudos to her inspirational site and recipe.