Ever see the ad campaign about "Will it blend?", where they shove random stuff into a blender to prove it will blend?
I feel like that with my veggie noodle maker – "Will it noodle?"
Today's "will it noodle" victim is a butternut squash! Butternut squash noodles sounded pretty cool. You can check out all the other vegetables I've noodled by clicking here (it will open another window).
Steps I used to prep the squash:
1. Cut off the ends
2. Peeled the butternut squash. Peel away until it is orange – you want to get rid of all the white rind, as it tastes bitter.
3. See image below – cut the squash right before the 'bulb' part
4. Scoop out the seeds from the bulb part with a spoon or your handy, dandy melon baller.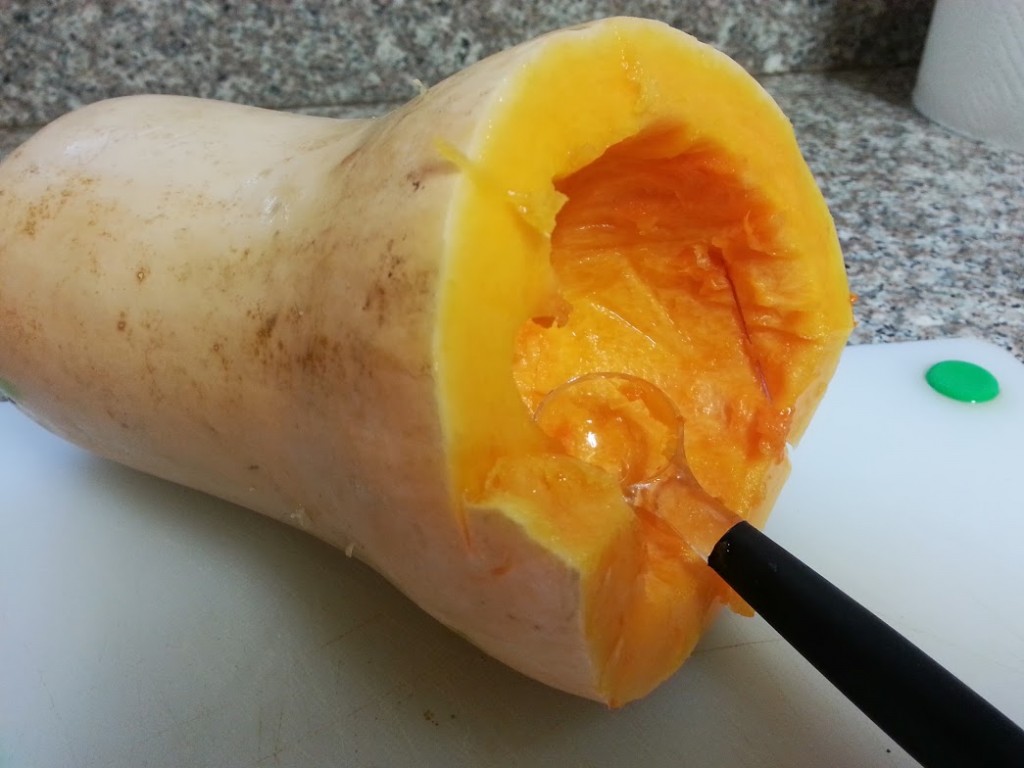 Scoop out the seeds with a spoon or your handy, dandy melon baller.[/caption]
5. Put the 'straight' part on the noodle maker and go to town!
6. Have a big pot of boiling, salted water ready to put the noodles in. I cooked mine about 5 minutes, but I think that was way too long – try sample after 2-3 minutes to see if you like the texture.
7. After THOROUGHLY draining (press down on the noodles to get out extra moisture), serve up with butter, herbs, grated cheese (I shredded the rest of the Organic Valley Raw Milk Jack cheese I used in my Ham and Cheese gypsy pepper recipe from earlier in the week) and mix it up. Don't forget to liberally salt. It's hard to get a 'sexy' picture of this food, but check out below.
Final thoughts: I definitely overcooked them and they didn't have as much flavor as I thought they would. I think I still prefer the texture of the turnip noodles over these, but would definitely try again. The color was lovely, and you can call them 'pumpkin noodles' to make a perfect fall addition for kids.